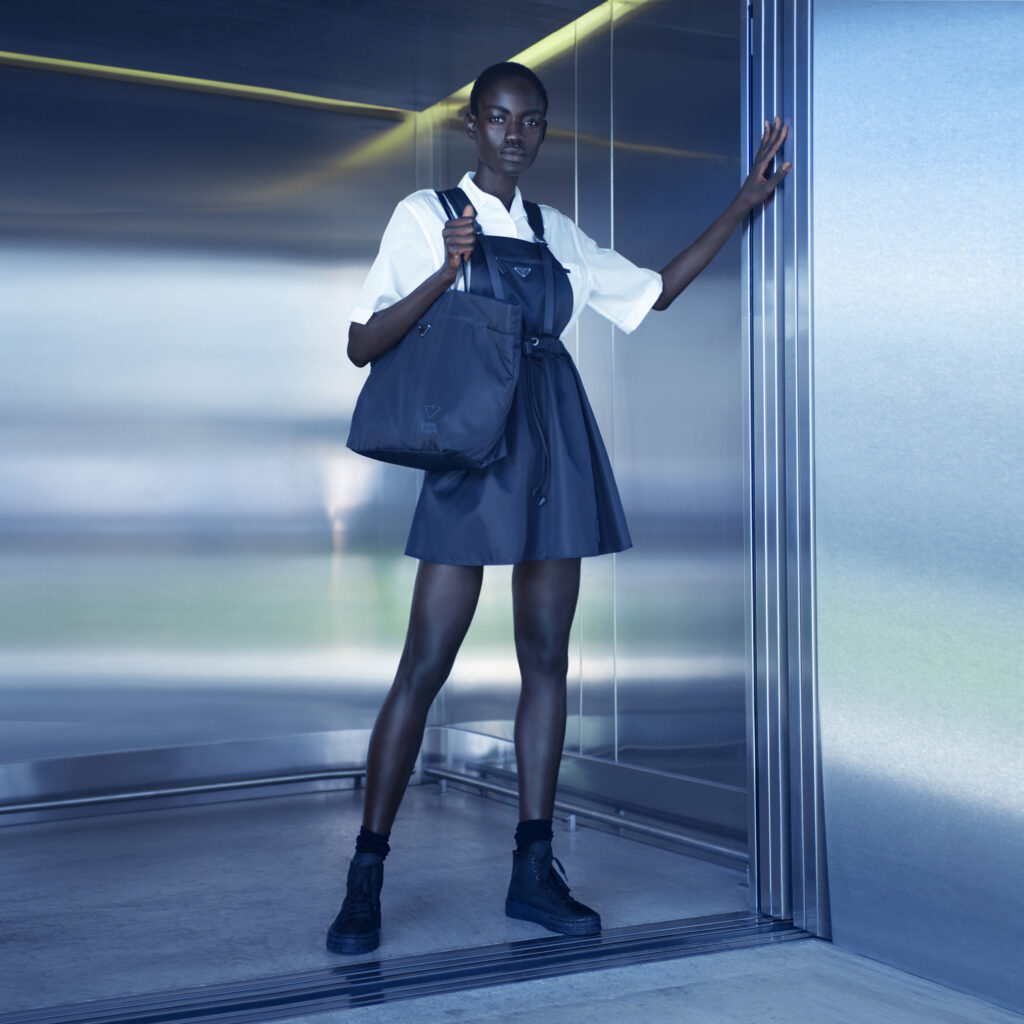 In a world that's thankfully becoming more eco-conscious there is always still room for change, and when a global fashion giant like PRADA creates this change the world takes notice. Prada has launched a pioneering new project, Re-Nylon, introducing a sustainable line of iconic Prada bag silhouettes executed in a unique new regenerated nylon, ECONYL®.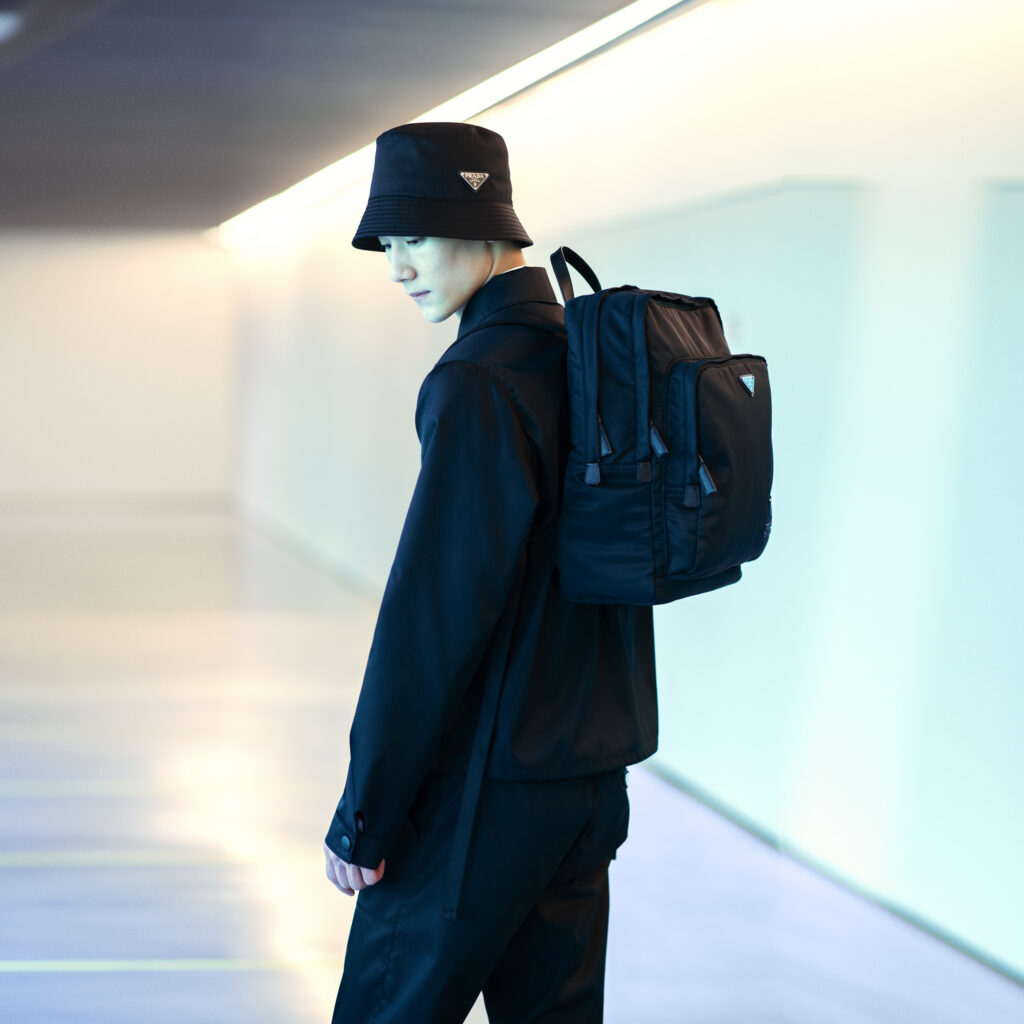 Re-Nylon is the product of a partnership between Prada and textile yarn producer Aquafil, ECONYL® nylon is made from plastic waste collected from oceans, fishing nets, and textile fibre waste which is put through a recycling and purification process. Even more amazing is that ECONYL® yarn, through a process of depolymerization and re-polymerisation, can be recycled indefinitely, with no loss of quality.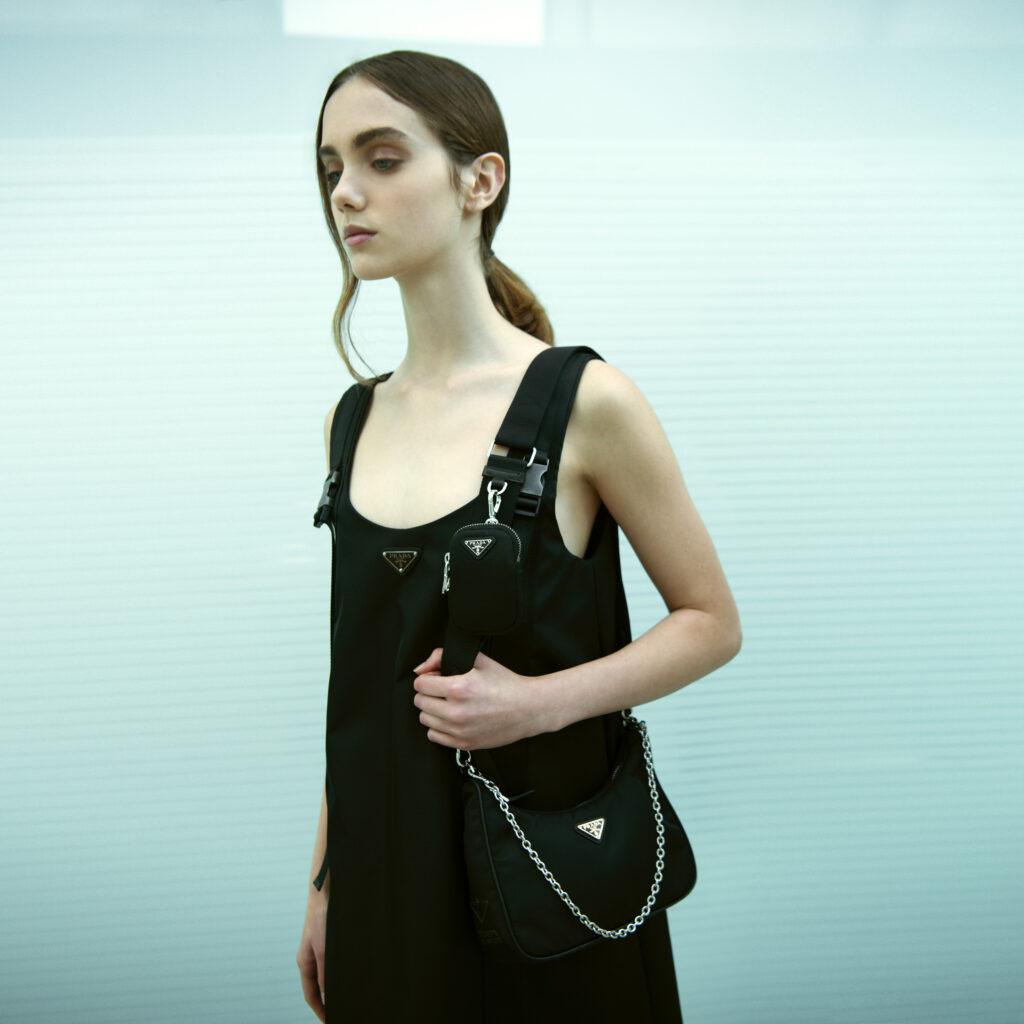 Re-Nylon is a bold move towards total sustainability – towards an ultimate goal of converting all Prada virgin nylon into regenerated nylon ECONYL® by the end of 2021. It reflects the focus of the Prada Group on promoting a
corporate culture that aspires to increasingly sustainable balances, incorporating into its daily work the idea of a return of value to society.
The Prada Re-Nylon collection launches with six classic styles, both for men and women: the belt bag, the shoulder bag, a tote bag, a duffle and two Prada backpacks.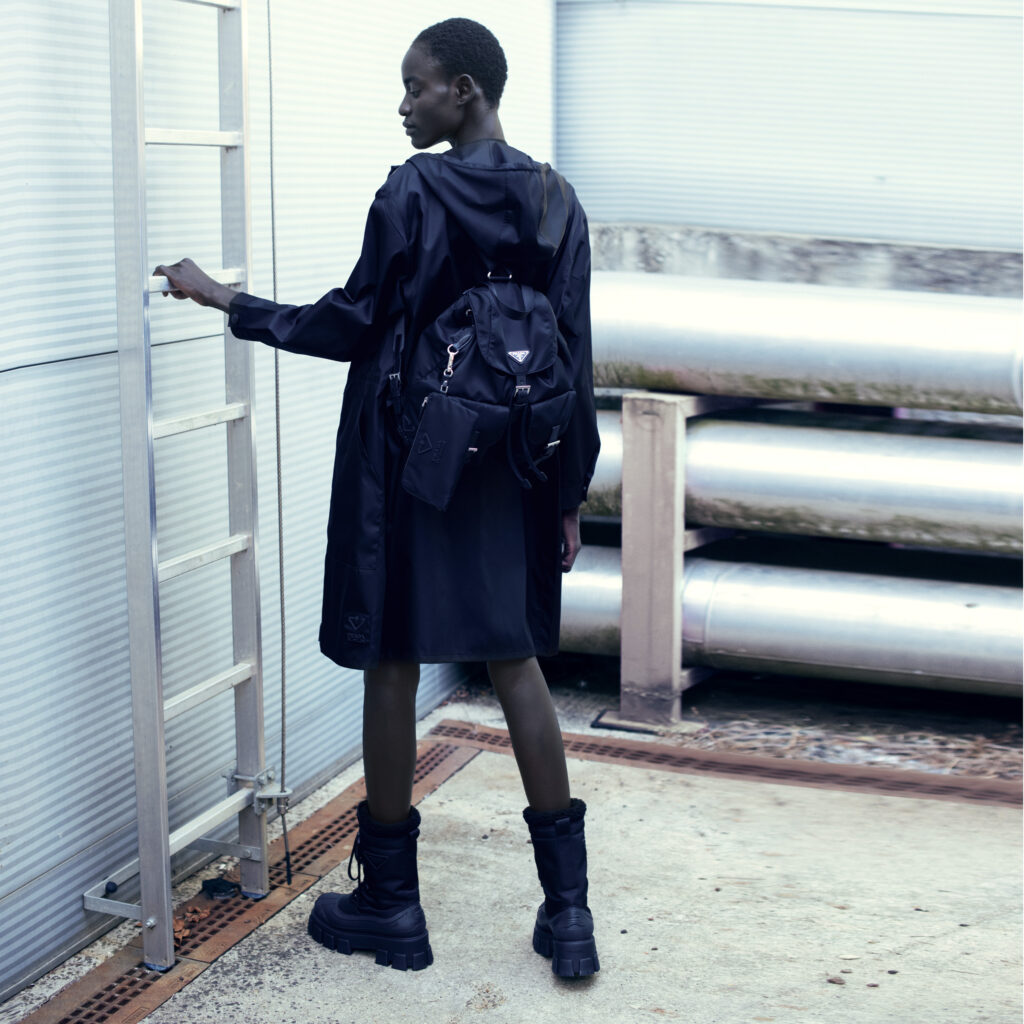 Committed to protecting the environment, in recent years, the Prada Group has invested in projects aimed at saving energy and promoting examples of good practice within the luxury sector: the Prada Re-Nylon initiative is the latest proof of its sustainability commitment in action.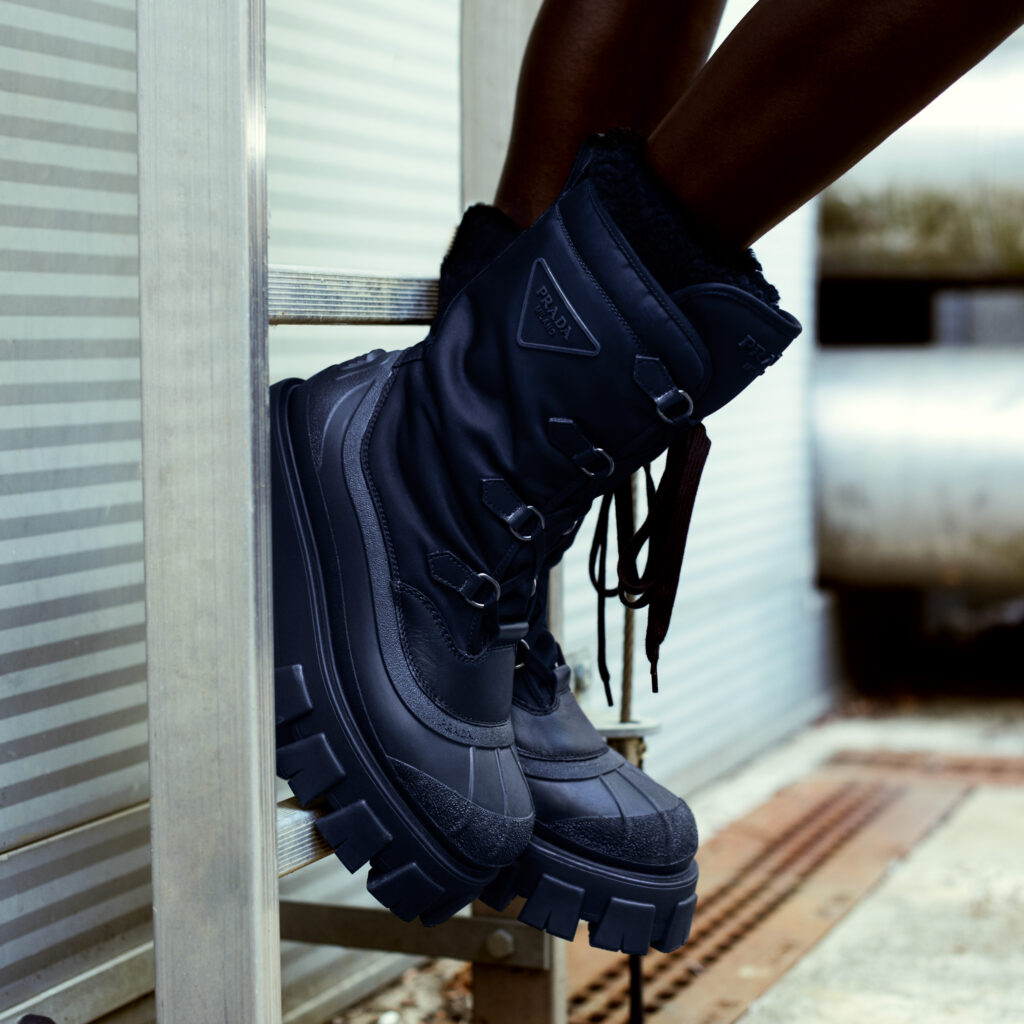 Alongside ready-to-wear, the collection features the first Re-Nylon footwear, regenerated nylon used to create new iterations of the Monolith combat boots and shoes, and low- and high-top sneakers. The accessory offering is also expanded, including hats, belts and multiple bag silhouettes for men and women. These styles include belt-bags, backpacks, cross-body styles and an archival Re-Edition style drawn from 2000, highlighting the continuous and timeless appeal of Prada nylon. All accessories and garments feature the Prada Re-Nylon logo, the Prada triangular logo reworked as a looping arrow, a symbol of perpetual renewal and of the cyclical, everlasting life of Re-Nylon.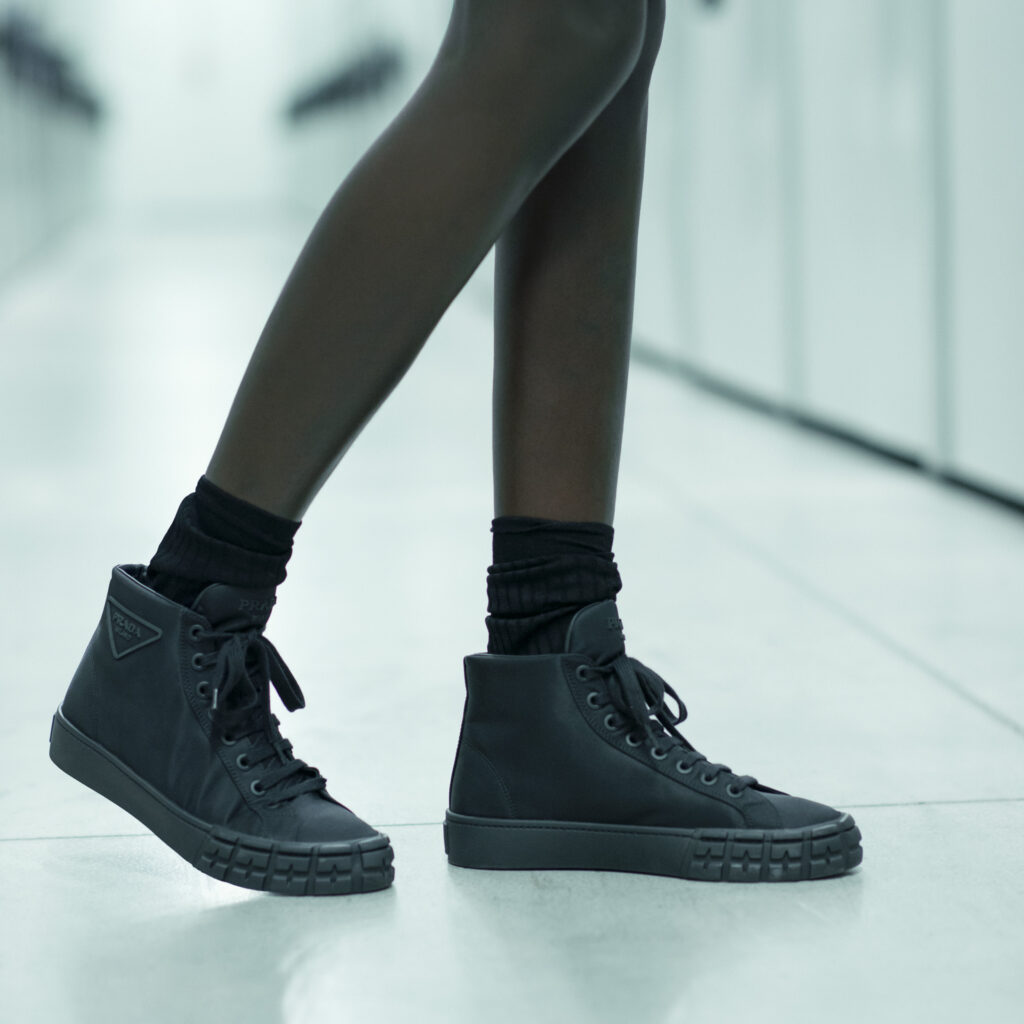 Representing a commitment to sustainable practice now and in the future, the expansion of the Prada Re-Nylon offering renews a company-wide estimate goal for sustainability: to convert all Prada virgin nylon into regenerated nylon by the end of 2021. Furthermore, this bold and ongoing decision represents a shift in how we see luxury as fundamental as Prada's introduction of nylon. If that invented a modern, industrial concept of luxury, Re-Nylon proposes a new notion. It transforms not only methods of production, but also that of the final product – in that it proposes that no product is truly final. Re-Nylon is not an idea of luxury, but an ideology – one that is sustainable and truly responsible.
The Prada Re-Nylon collection is available in selected Prada boutiques worldwide with dedicated in-store and window set-ups, via prada.com as well as through selected retail partners with special pop-up stores.
Edited by Arrnott Olssen